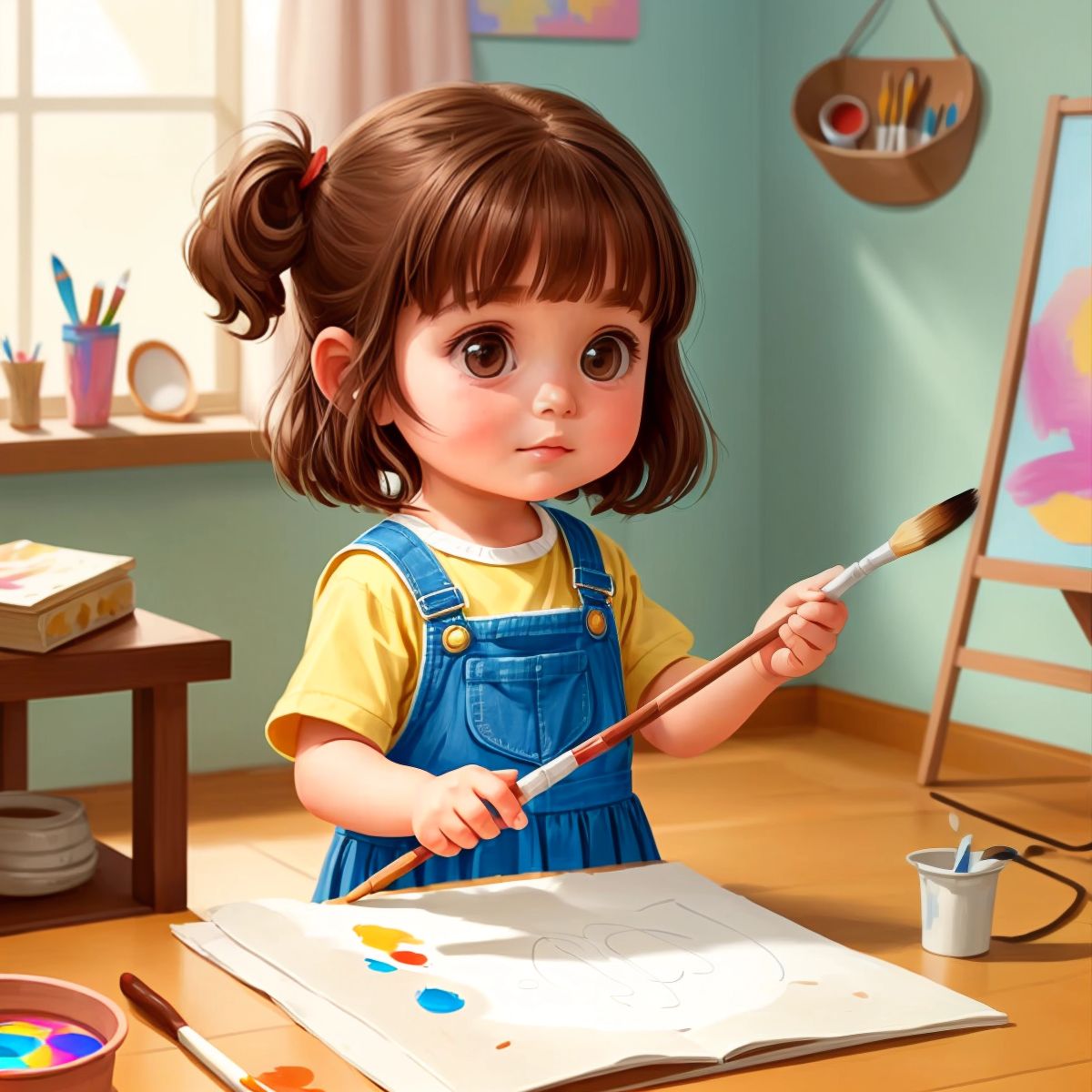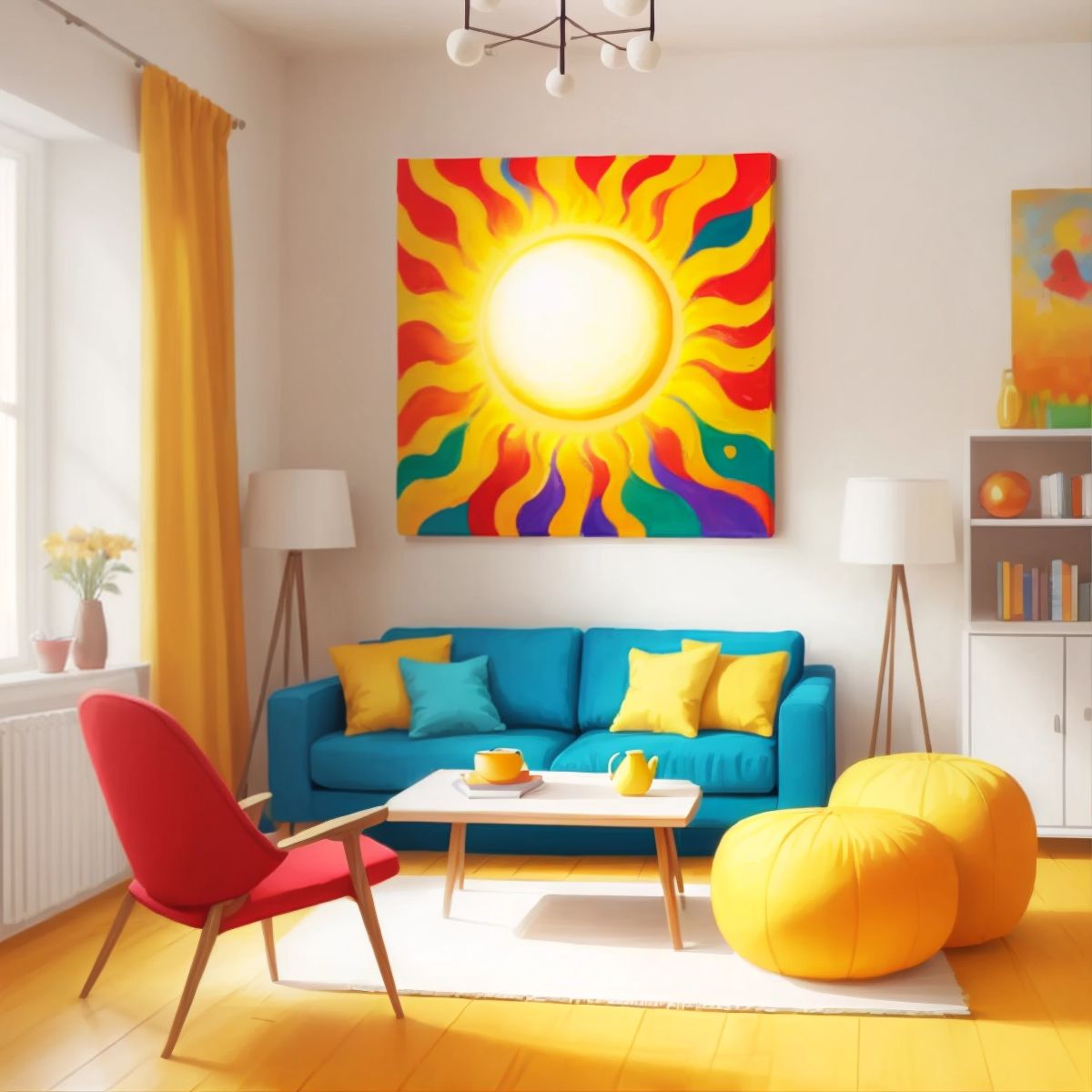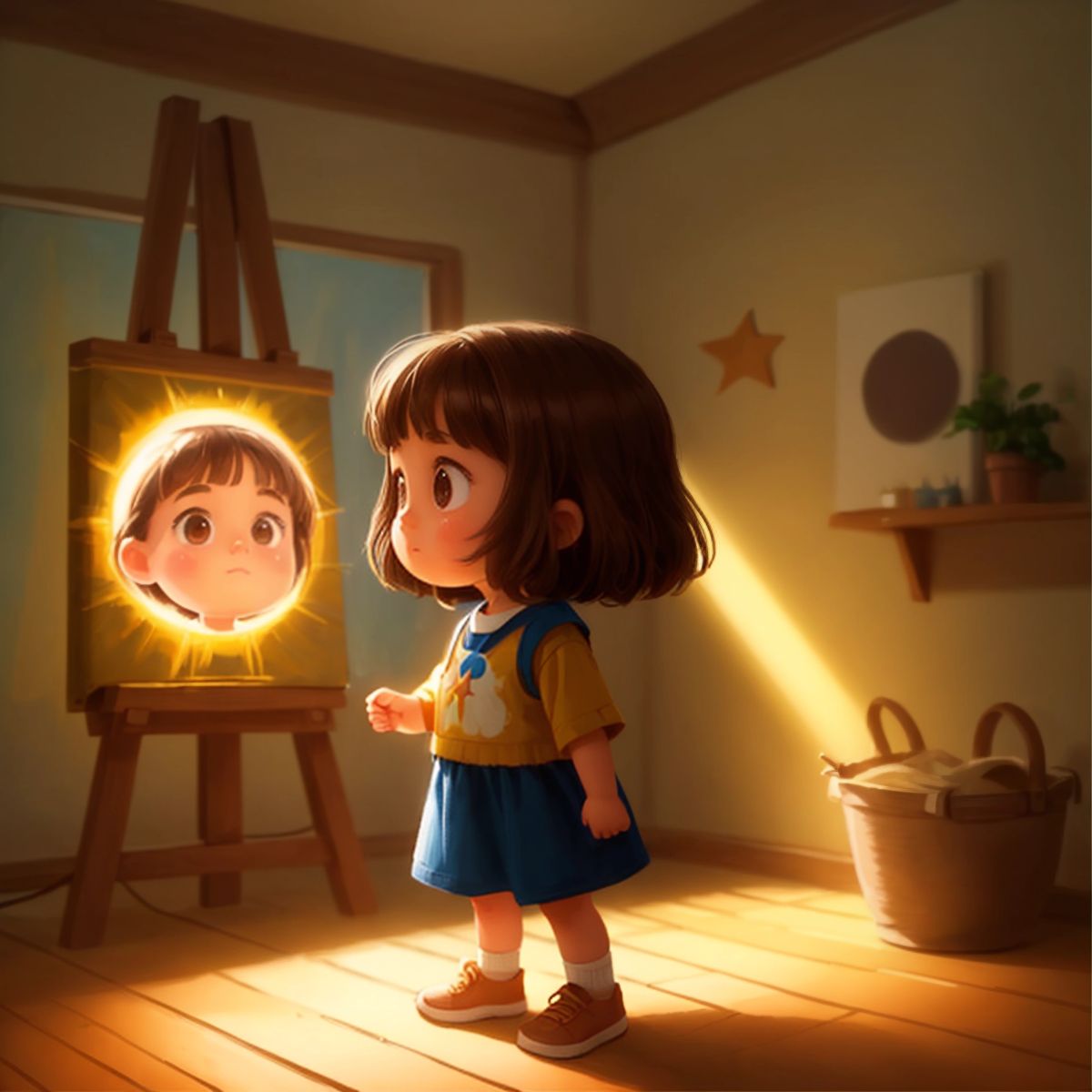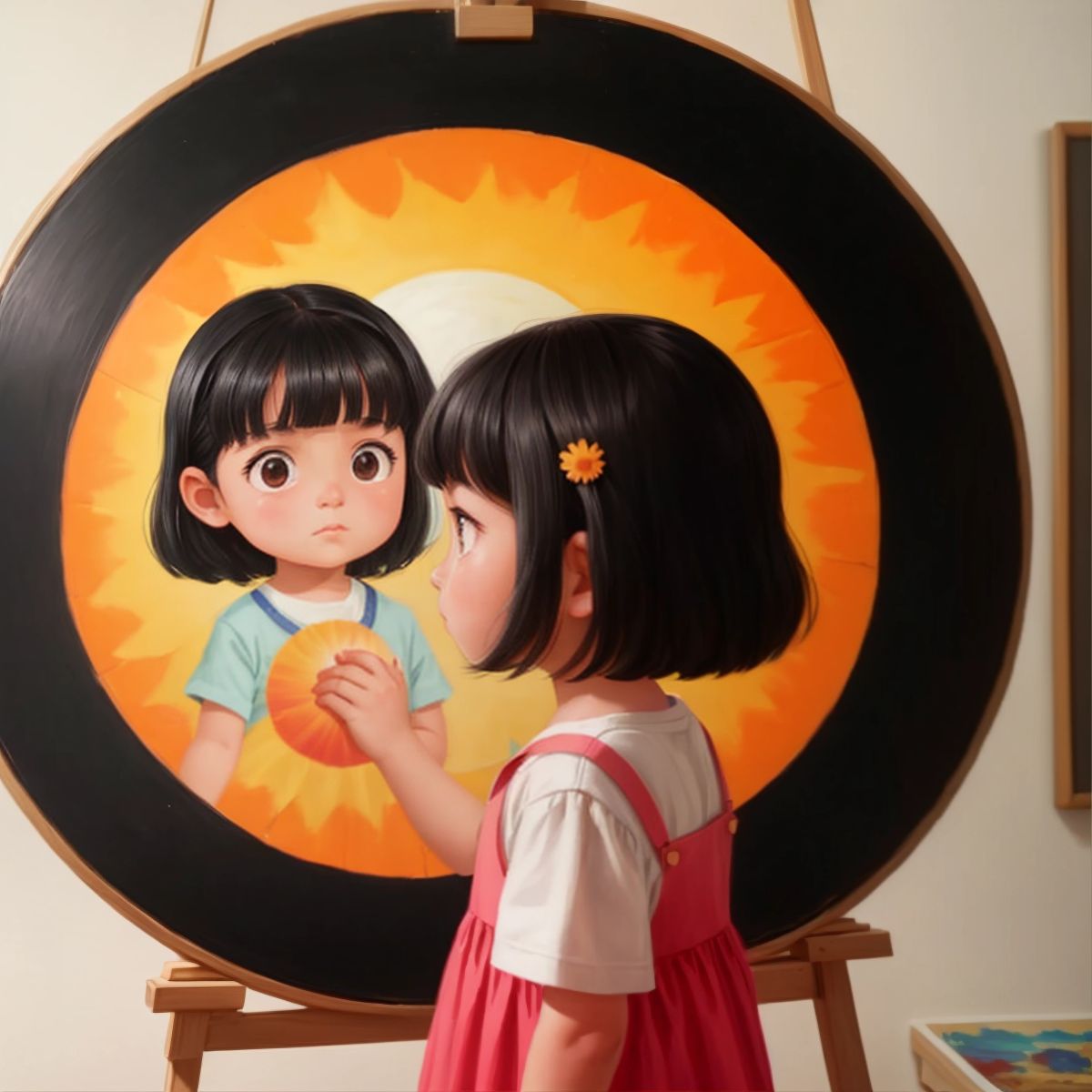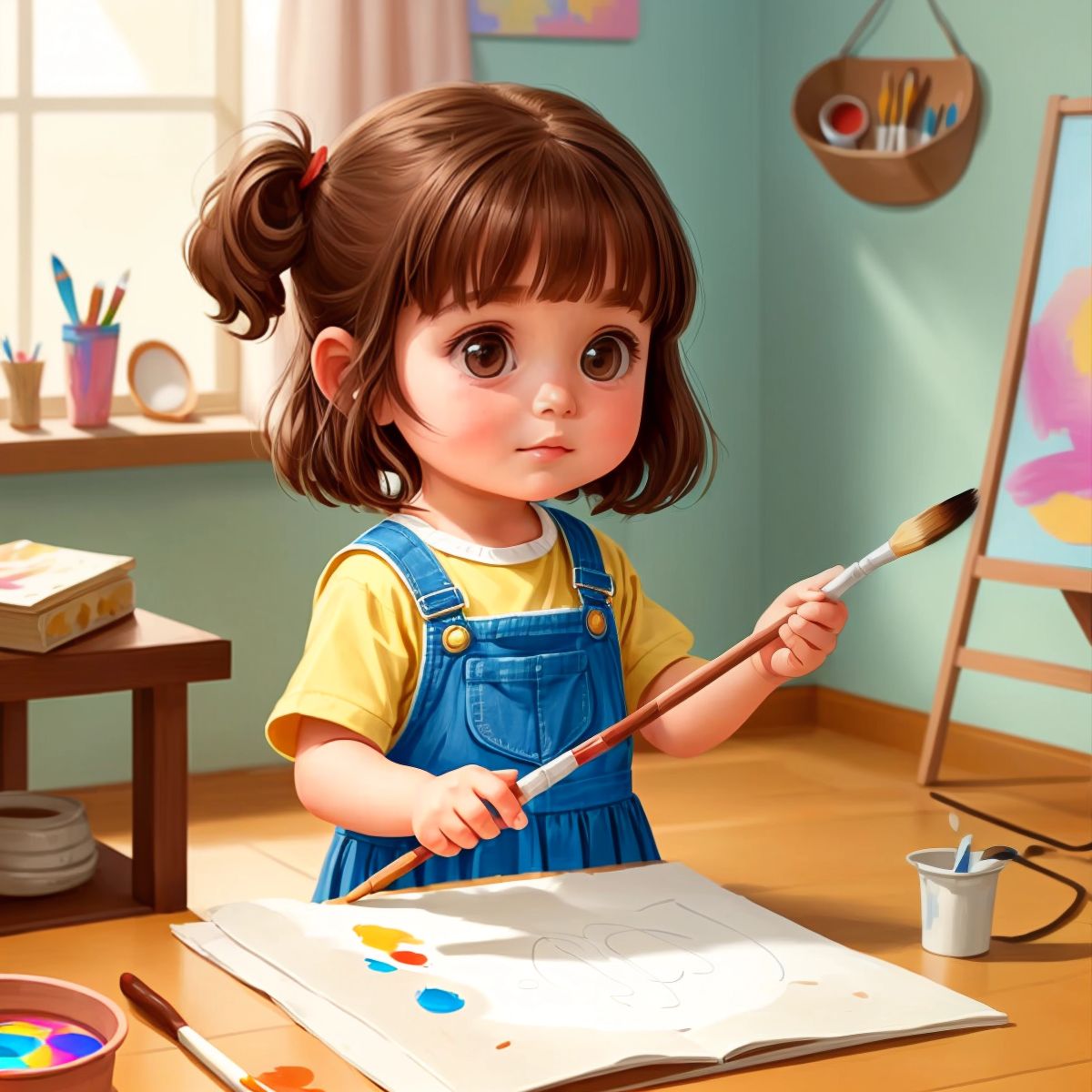 Illustration 1: Floret holding a paintbrush, looking at a canvas
Once upon a time, there lived a little girl named Floret who had an immense passion for drawing. Every single day, she would eagerly pick up her paintbrush and create the most magnificent artworks that her imagination could conjure. With each stroke of her brush, Floret's love for drawing grew stronger, and she couldn't imagine a world without art.
1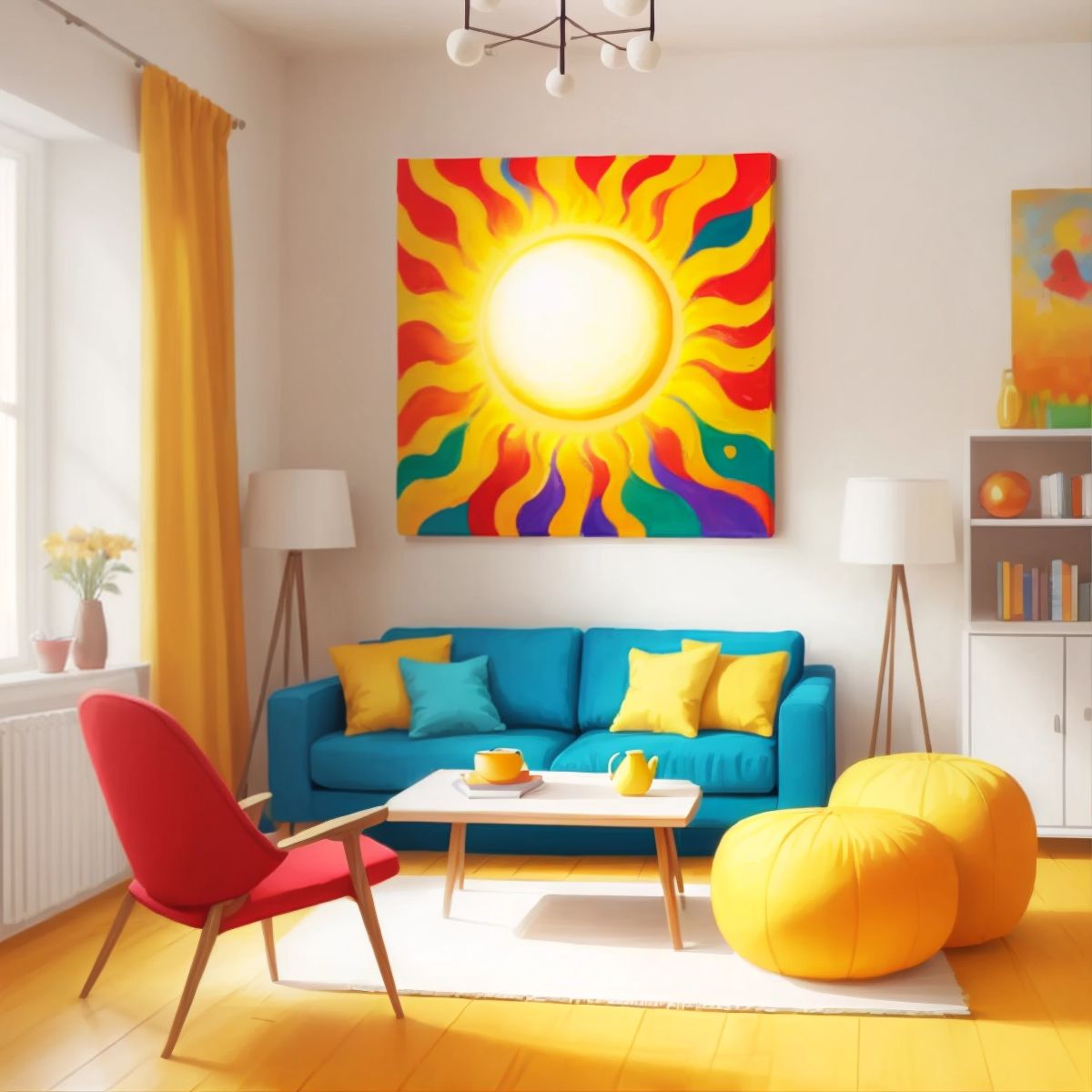 Illustration 2: A vibrant and radiant sun on a canvas
On a beautiful sunny day, Floret decided to embark on a special artistic journey. She dipped her brush into the brightest yellow paint, carefully selecting the perfect shade to bring her vision to life. With utmost precision, she painted a vibrant and radiant sun on her canvas. The sun's smile beamed with warmth, and its rays danced with a kaleidoscope of colors, filling Floret's heart with pure joy.
2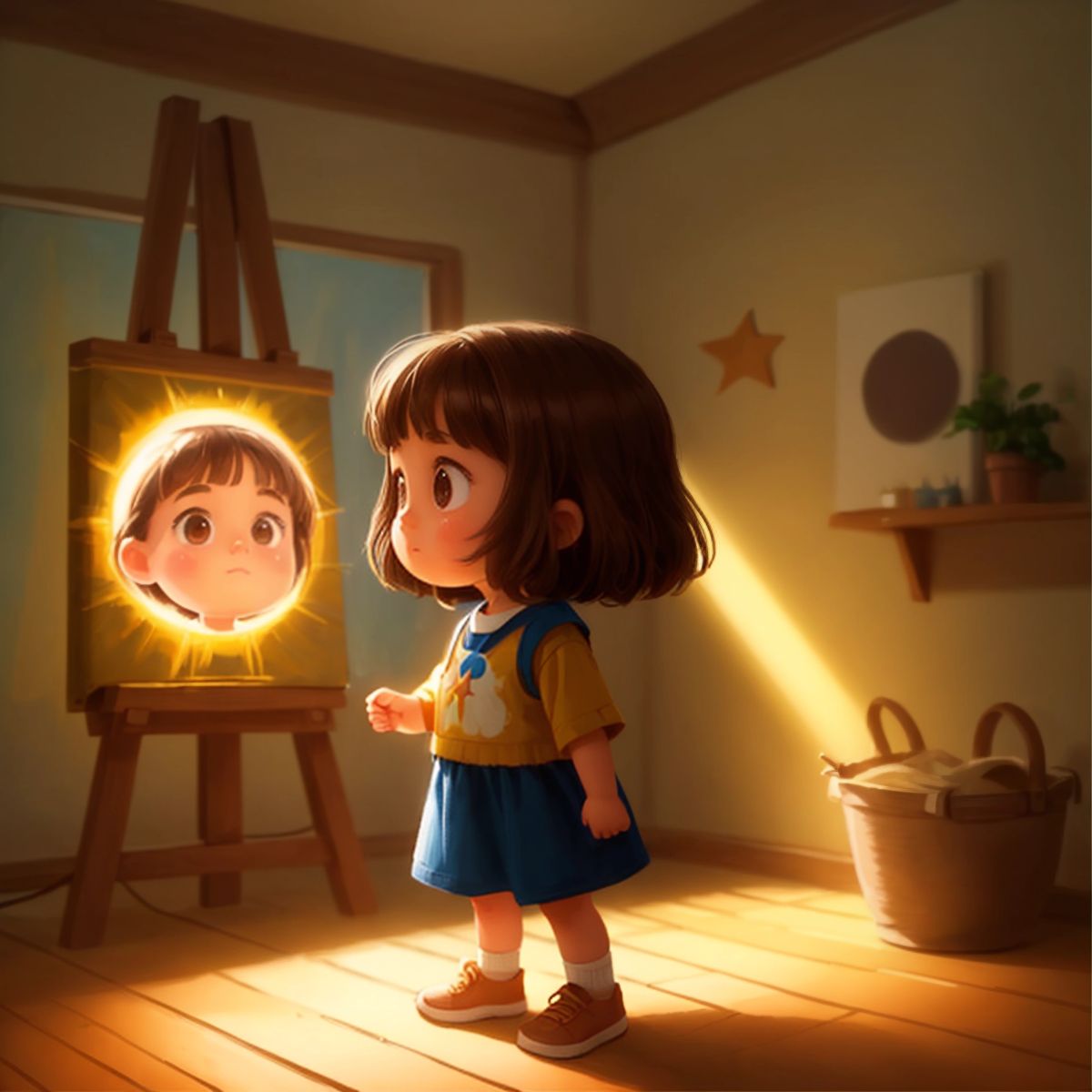 Illustration 3: Floret standing in a room illuminated by the glow from a canvas
As soon as Floret finished painting the sun, a magical transformation occurred. The sun's vibrant hues seemed to come alive, emitting a gentle and comforting glow that enveloped the entire room. Floret stood in awe, mesmerized by the ethereal beauty that radiated from her creation. The warm glow not only illuminated the space but also filled her heart with a sense of tranquility and contentment.
3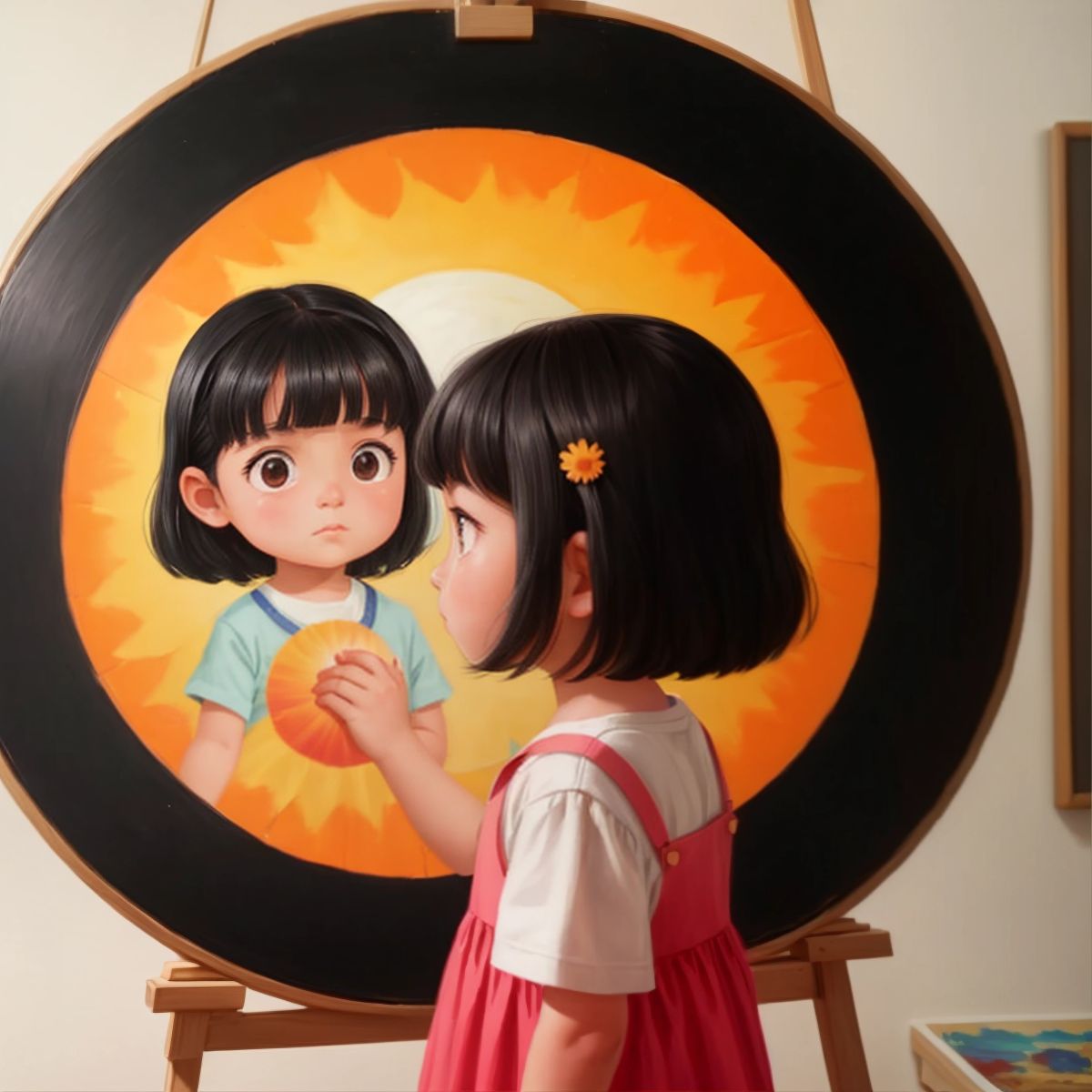 Illustration 4: Hua Hua looking at a painting of a colorful sun
Floret's dear friend, Hua Hua, caught a glimpse of the colorful sun and instantly fell head over heels in love with its mesmerizing charm. Hua Hua couldn't help but marvel at the sun's breathtaking beauty, believing it to be the most magnificent thing she had ever laid her eyes upon. Overwhelmed with joy, Hua Hua excitedly shared her newfound love for the colorful sun with her mother, hoping to spread its magic to others.
4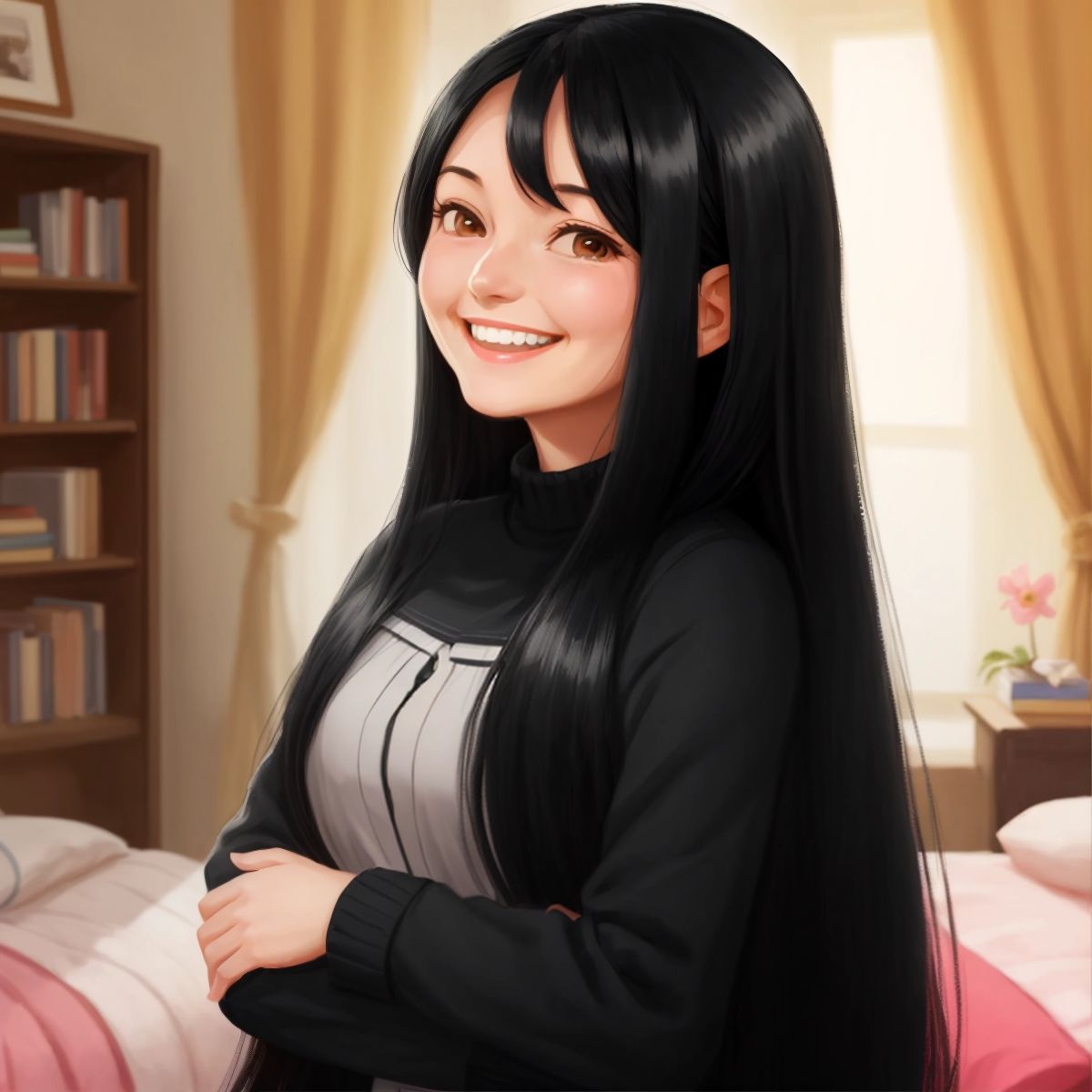 Illustration 5: Hua Hua's mother with a warm smile
Hua Hua's mother listened attentively to her daughter's enthusiastic words about the colorful sun. With a warm smile, she acknowledged the profound impact the sun had on their lives. Hua Hua's mother explained to her that the sun is not only a source of light and warmth but also a symbol of life and vitality. It is the giver of energy, allowing plants to grow and brightening our days. Hua Hua's appreciation for the sun deepened, and she understood its significance.
5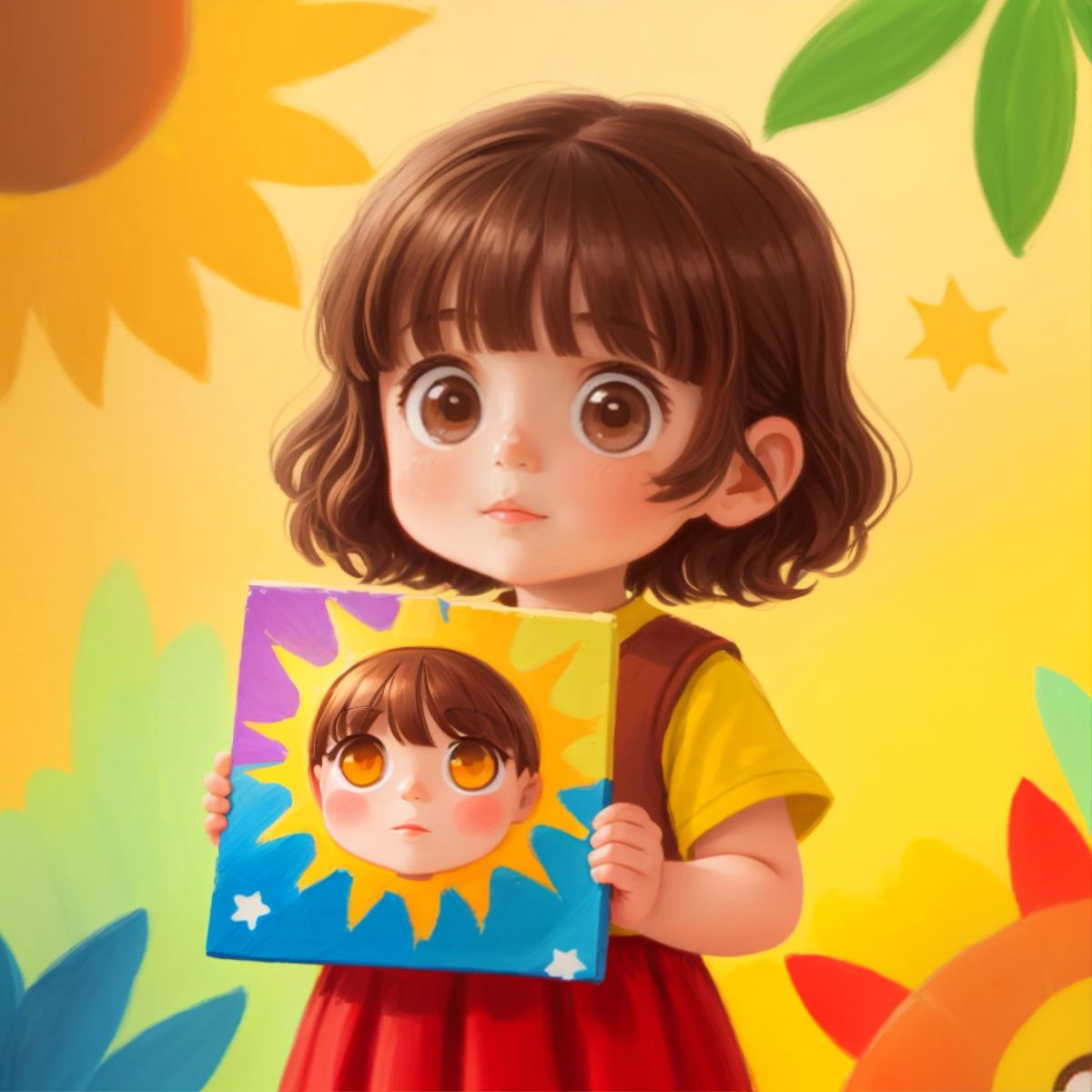 Illustration 6: Little Flower holding a painting of a colorful sun
Filled with gratitude for the sun's benevolence, Hua Hua shared the story of the colorful sun with her dear friend, Little Flower. Little Flower's heart swelled with appreciation as she realized the immense importance of the sun in their lives. Inspired by Floret's creation and Hua Hua's love for the sun, Little Flower made a heartfelt decision. She vowed to express her gratitude by painting a colorful sun every single day, spreading its warmth and joy to all.
6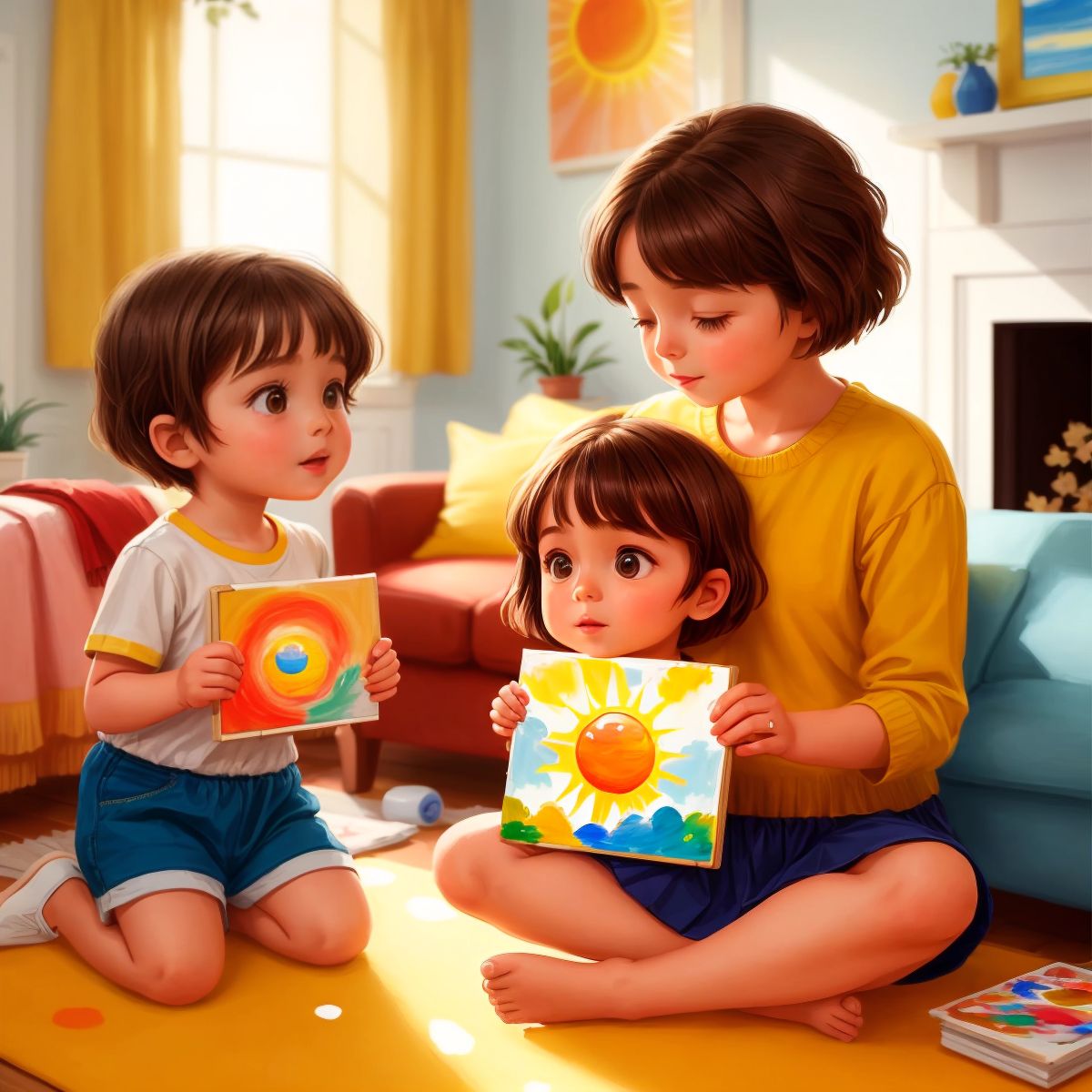 Illustration 7: Little Flower sharing her painting with her family
Little Flower embarked on a mission to spread happiness through her colorful sun paintings. She eagerly shared her radiant creations with her family, friends, and even neighbors. The moment someone received a painting, their faces would light up with joy and their hearts would overflow with warmth. The colorful sun became a beacon of happiness, brightening the lives of all who laid eyes upon it. Little Flower's act of kindness brought smiles and positivity to the world.
7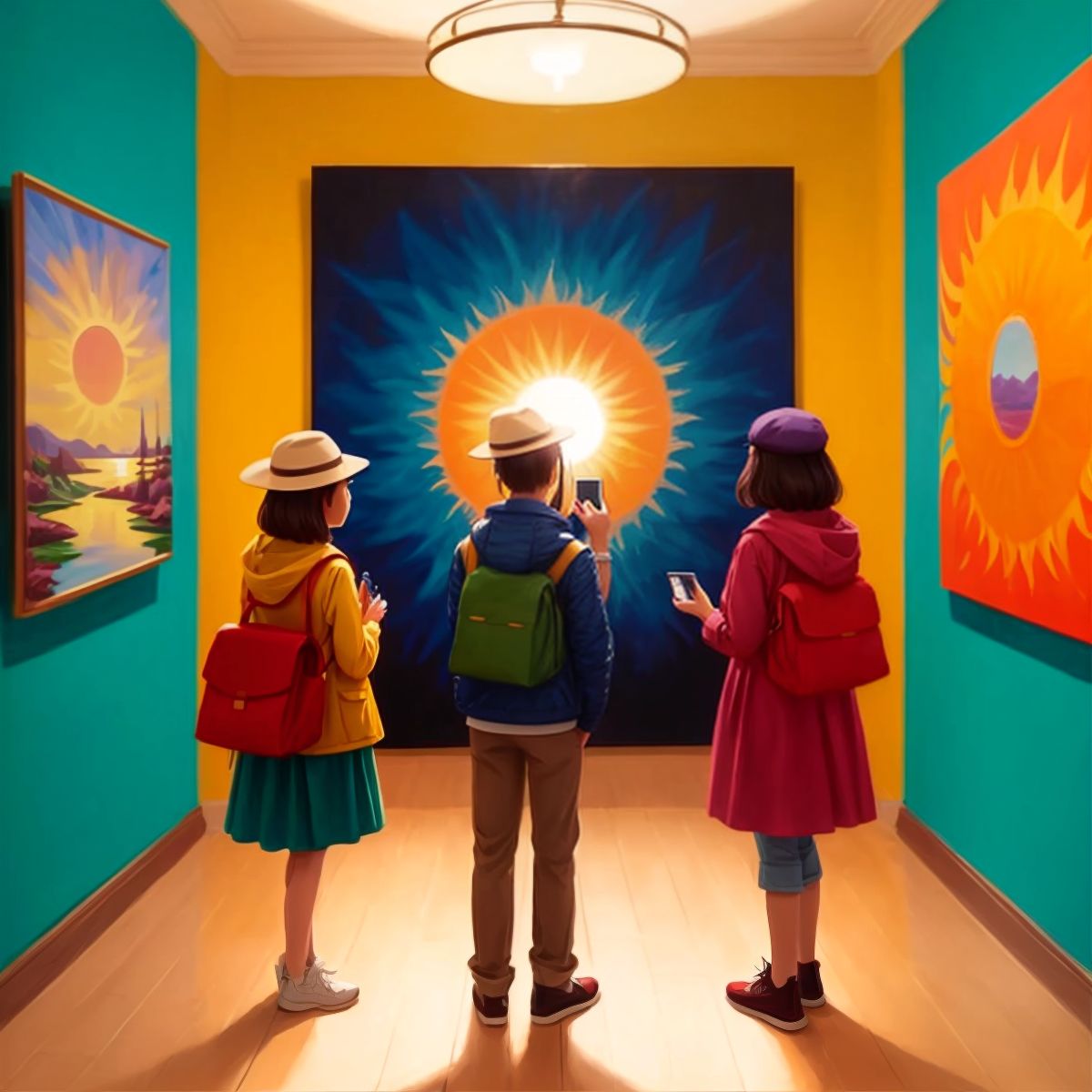 Illustration 8: People from all walks of life looking at colorful sun paintings
News of Little Flower's remarkable act of spreading happiness through her colorful sun paintings began to spread far and wide. People from all walks of life started to appreciate the young girl's kindness and the positive impact she was making with her art. They felt grateful for the joy and happiness the colorful sun brought into their lives, realizing that even the smallest acts of kindness can have a profound effect on the world around them.
8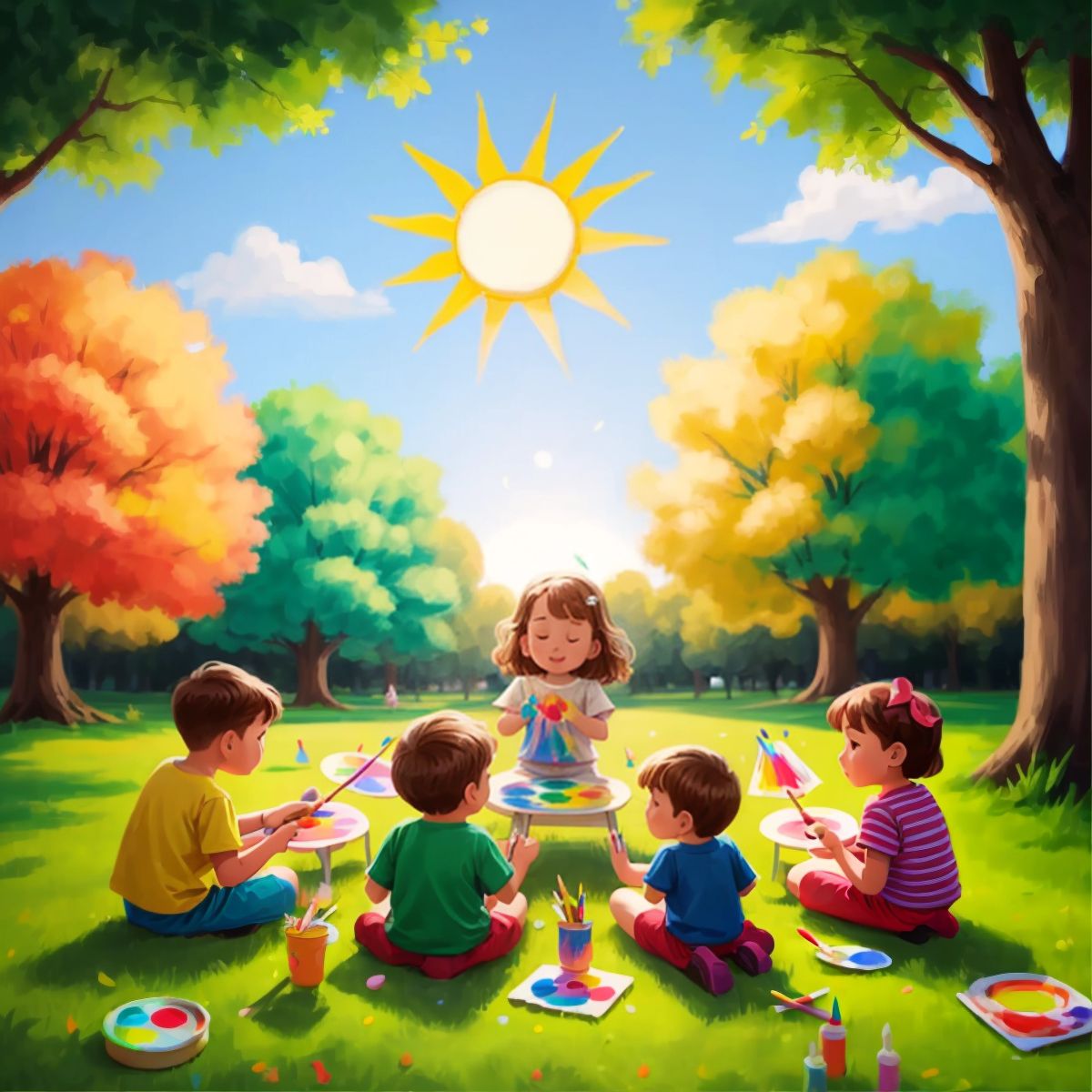 Illustration 9: Children and adults painting colorful suns
Inspired by Little Flower's selfless actions, more children and adults joined in painting colorful suns to share with others. Soon, homes, schools, and parks were adorned with these radiant symbols of happiness. The world transformed into a brighter and happier place, as the simple act of sharing a colorful sun became a powerful gesture of love and compassion. Each painted sun served as a reminder that kindness knows no boundaries and can touch the hearts of all.
9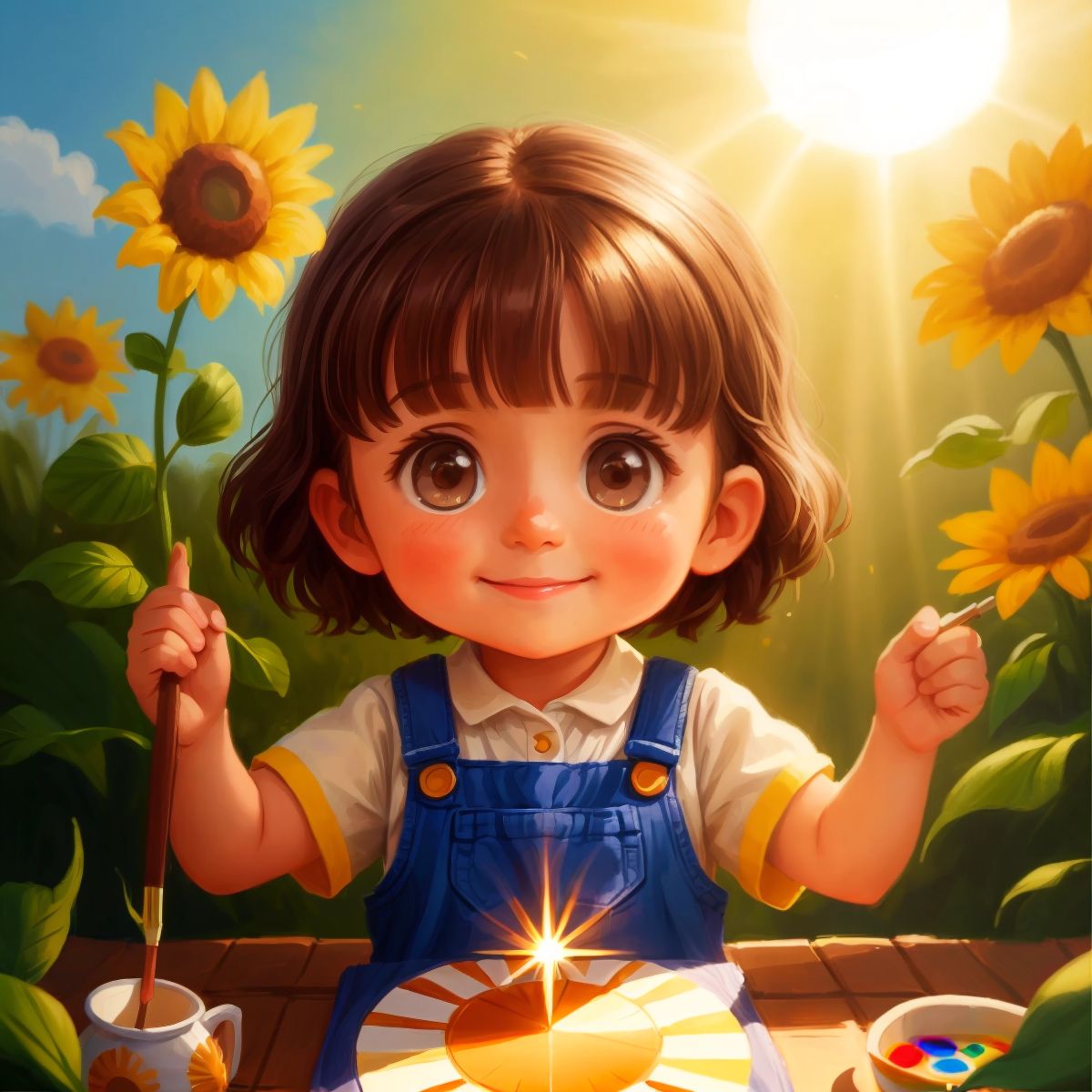 Illustration 10: Little Flower painting a sun, with the sun's rays seeming to smile back at her
One day, as Little Flower meticulously painted yet another colorful sun, she noticed something extraordinary. The sun's rays seemed to be smiling back at her, as if expressing gratitude for her unwavering dedication to spreading happiness. In that moment, Little Flower felt a deep connection with the sun, understanding that her small acts of kindness had made a significant impact. The sun's smiling rays filled her with a sense of fulfillment and encouraged her to continue her mission.
10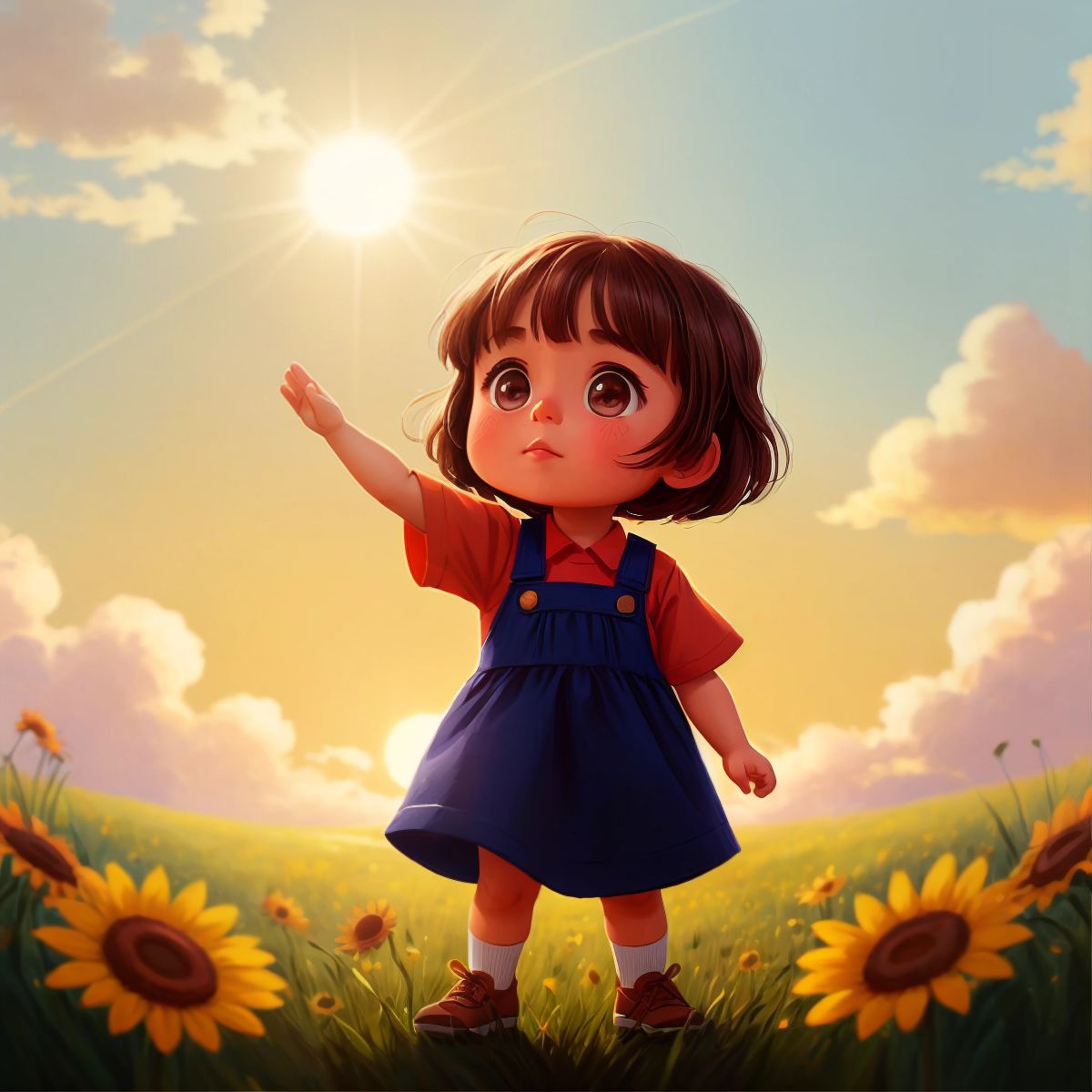 Illustration 11: Little Flower looking at the sun with a sense of gratitude
Little Flower's heart overflowed with gratitude for the sun's unwavering presence in their lives. She realized that the sun's warmth and the happiness it brought were gifts that could never be taken for granted. With a renewed sense of purpose, Little Flower made a solemn promise to herself. She vowed to continue painting colorful suns, spreading joy and love to everyone she encountered. Her dedication to brightening the world with her art became an everlasting testament to her gratefulness.
11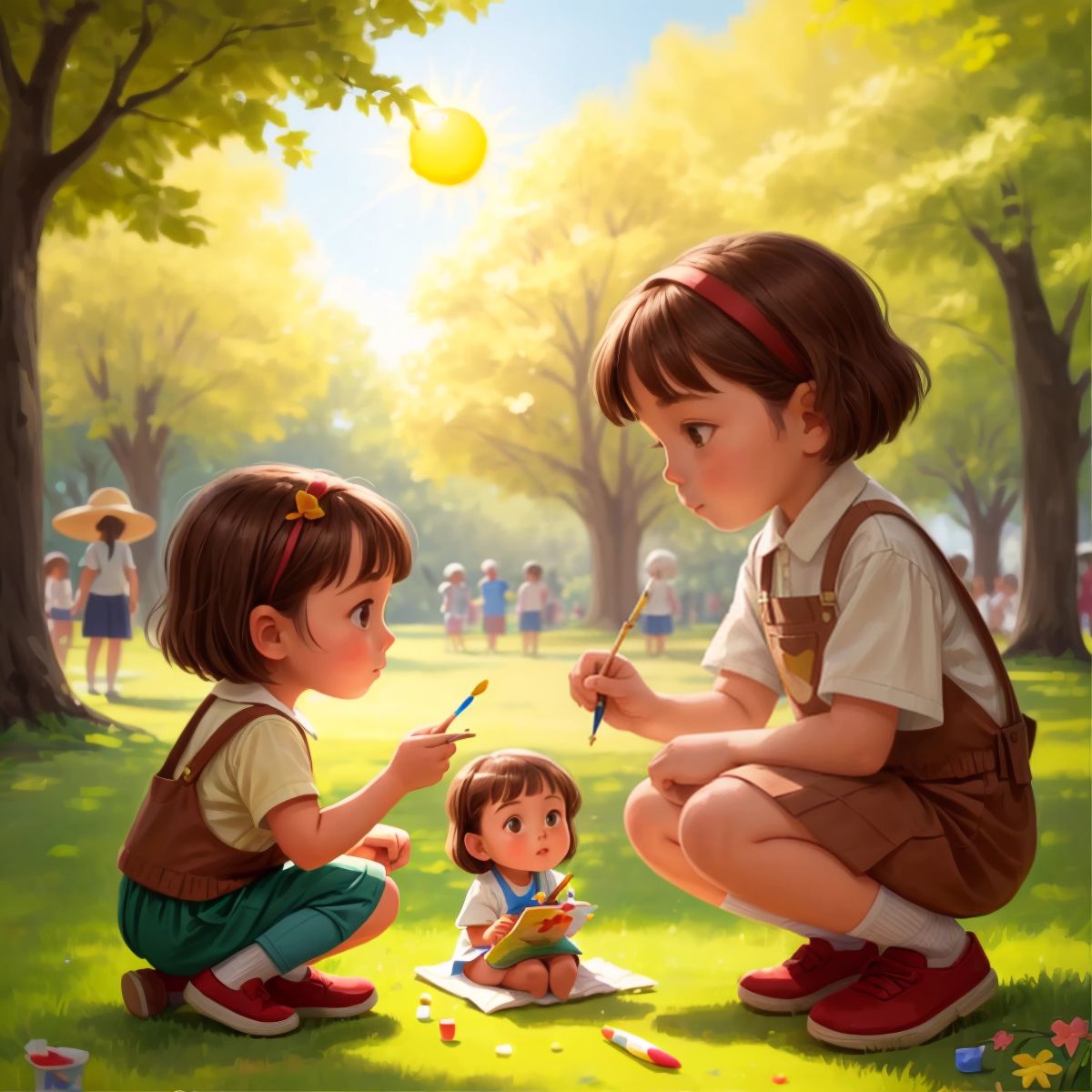 Illustration 12: Little Flower painting a sun, with people of all ages looking at her paintings
And so, Little Flower's journey continued, as she painted countless colorful suns and shared them with people of all ages. The world blossomed into a more vibrant and joyful place, thanks to her kind heart and love for art. Each stroke of her brush infused the hearts of those who received her paintings with a kaleidoscope of happiness. The endless colors of joy and gratitude filled the lives of all, creating a tapestry of love and positivity that would forever be cherished.
12