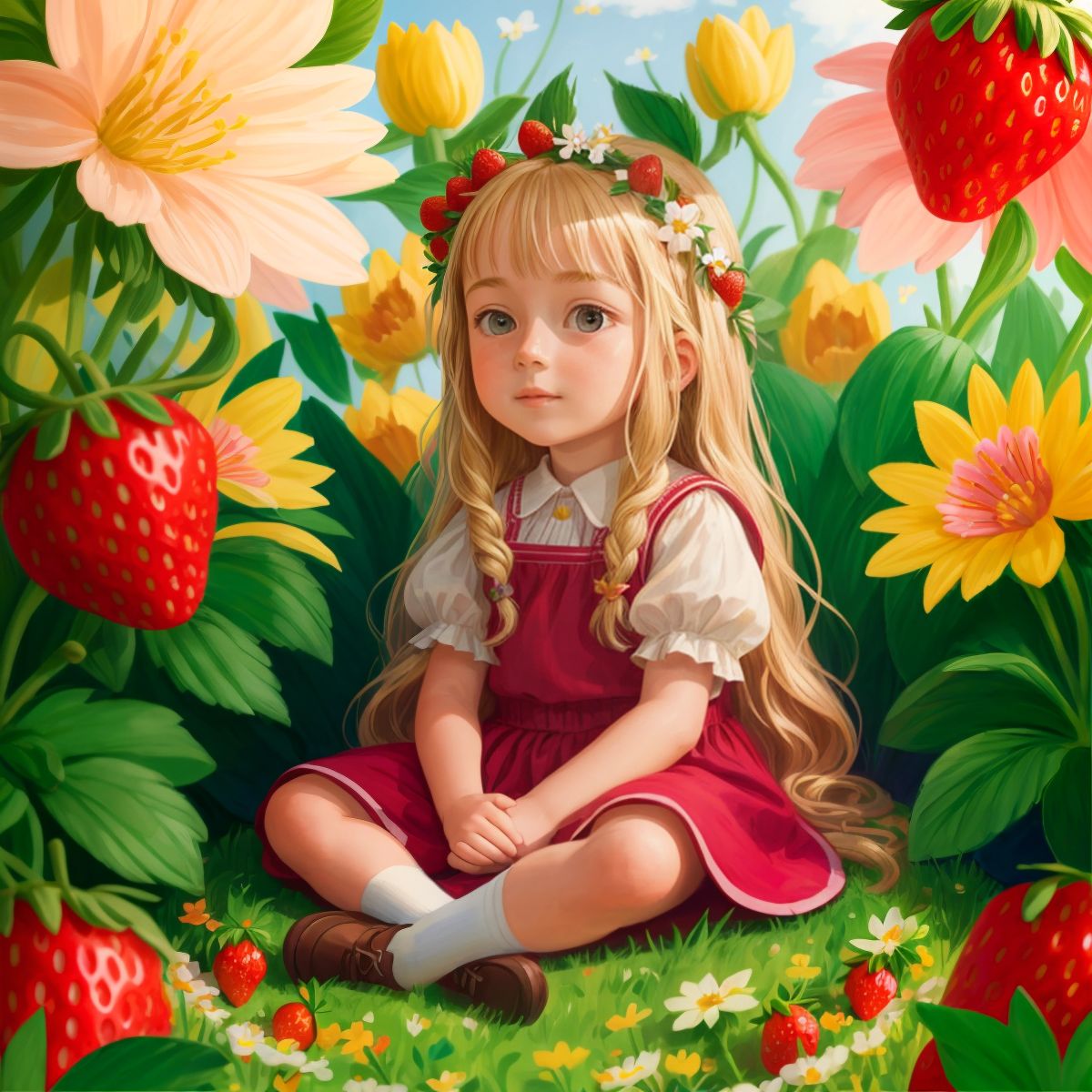 Illustration 1: Princess Strawberry sitting in her magical garden, surrounded by vibrant strawberries and flowers.
Once upon a time in a faraway kingdom, there lived a young princess named Strawberry. She had a magical garden filled with the sweetest strawberries and the most beautiful flowers. Princess Strawberry loved spending her days in the garden, where she felt the happiest.
1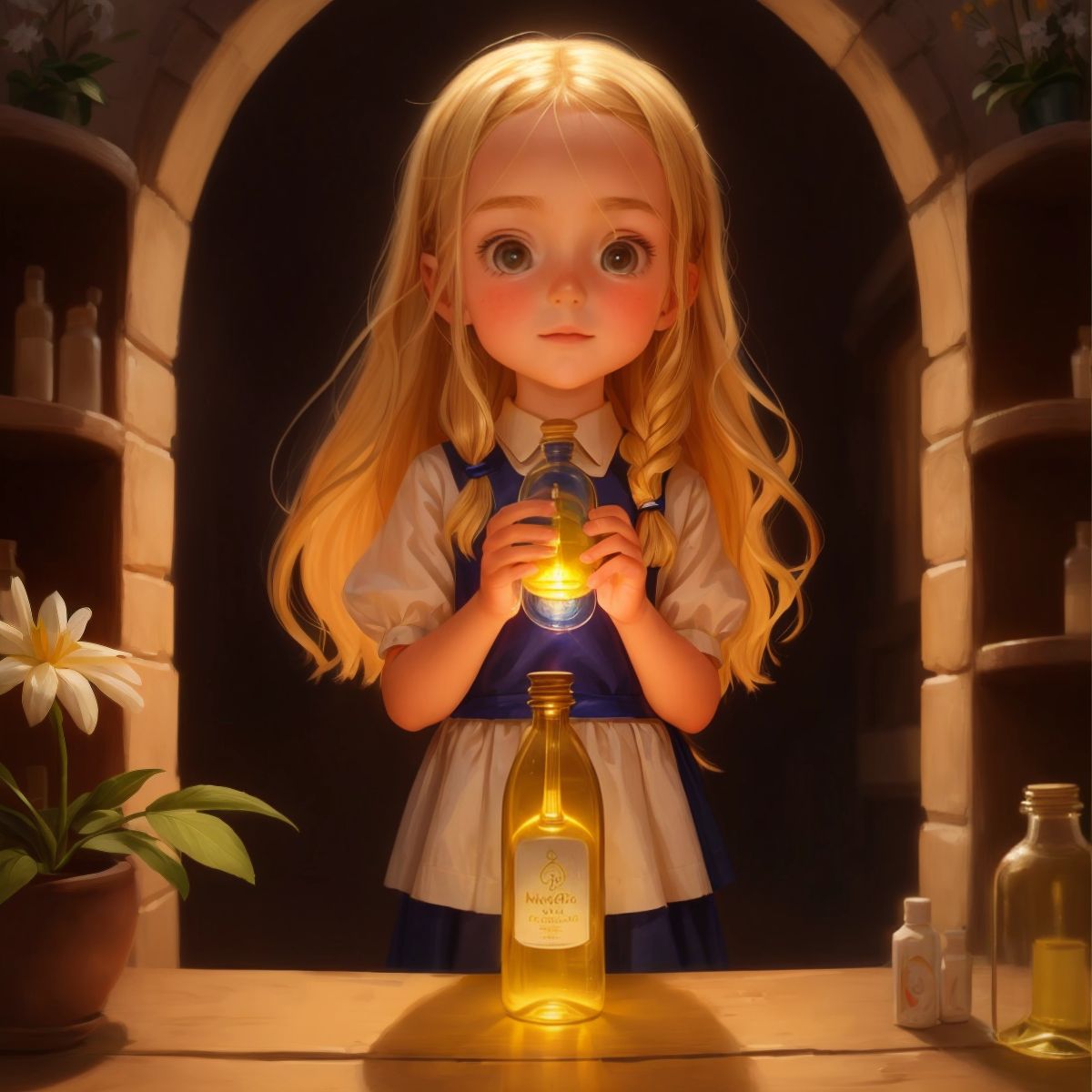 Illustration 2: Princess Strawberry holding a bottle of magical oil, with a radiant glow on her skin.
One sunny morning, Princess Strawberry discovered that the strawberries and flowers in her garden had a special power. When she mixed them together, they created a magical oil that made her skin glow and filled her heart with joy and happiness. She was overjoyed with her discovery and couldn't wait to share it with her family.
2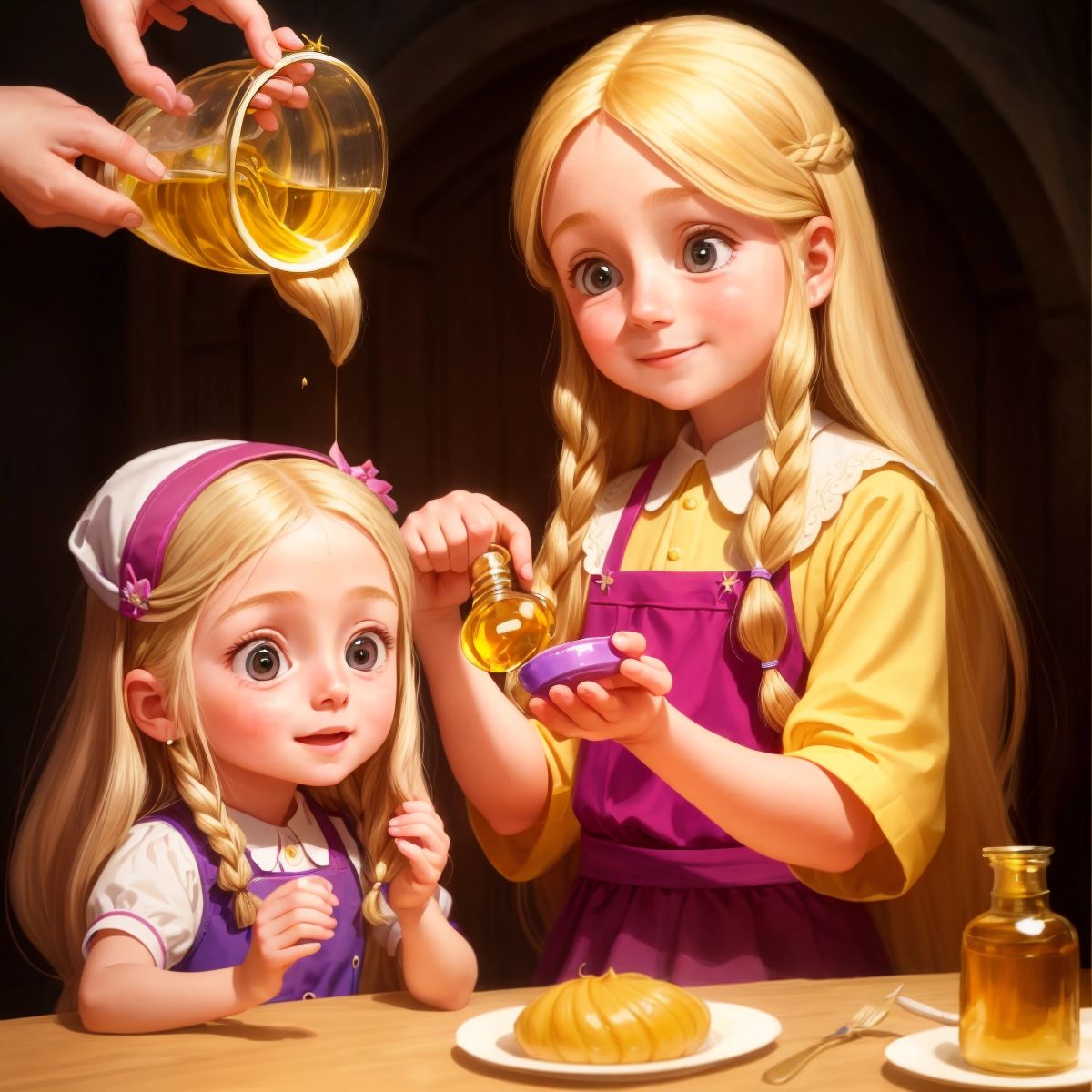 Illustration 3: Princess Strawberry applying the magical oil to her parents' skin, with their faces expressing amazement and joy.
Princess Strawberry wanted to spread the joy of her magical oil with her parents. She carefully applied the oil to their skin, and instantly, they felt younger and happier. They were amazed by the magical powers of the oil and thanked their daughter with hugs and smiles.
3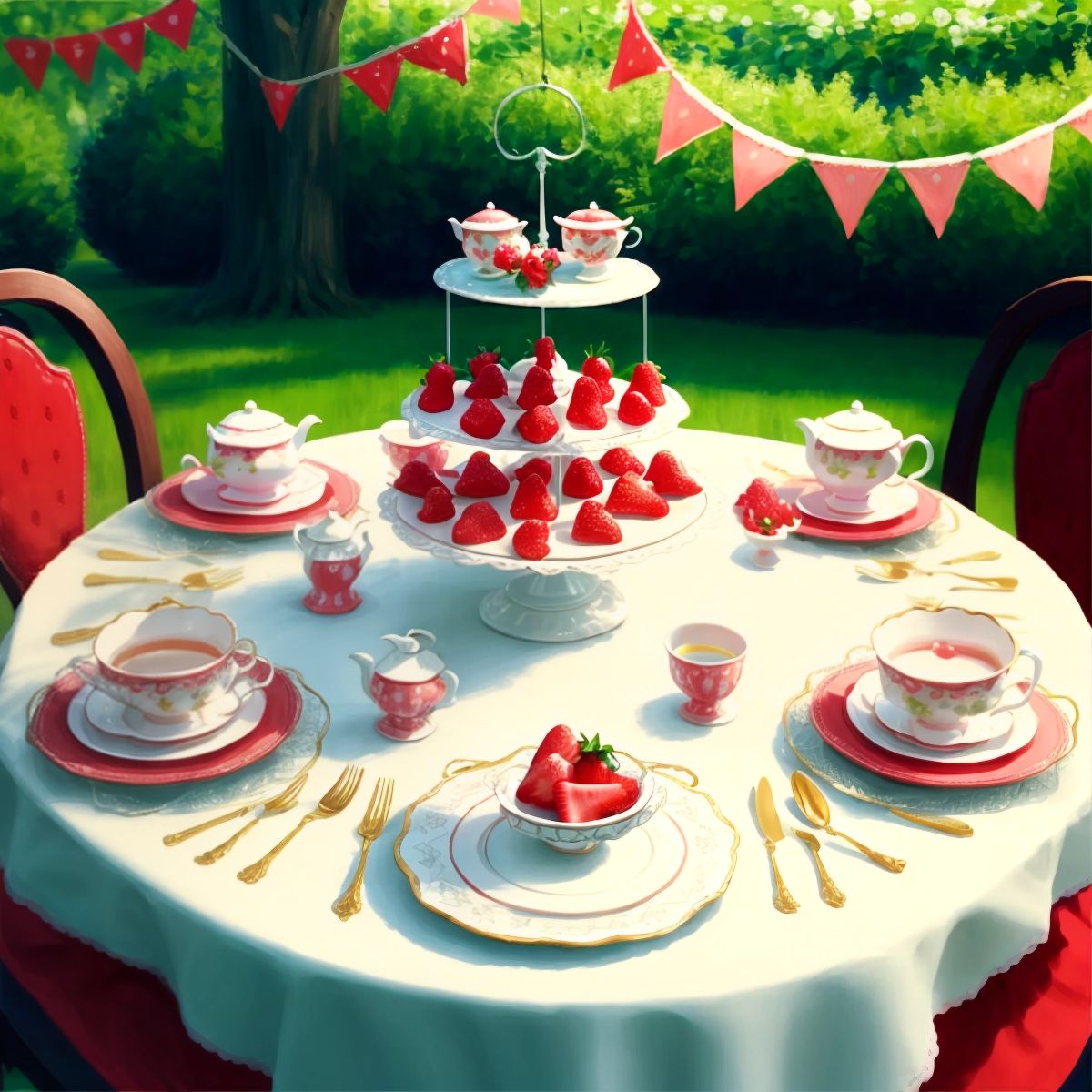 Illustration 4: A beautifully set table with strawberry-themed decorations, ready for the tea party in the garden.
To celebrate the magical oil and Princess Strawberry's loving heart, her parents organized a big strawberry tea party in the garden. They invited all the people in the kingdom to share the happiness and the magical oil. It was a joyful and unforgettable day for everyone.
4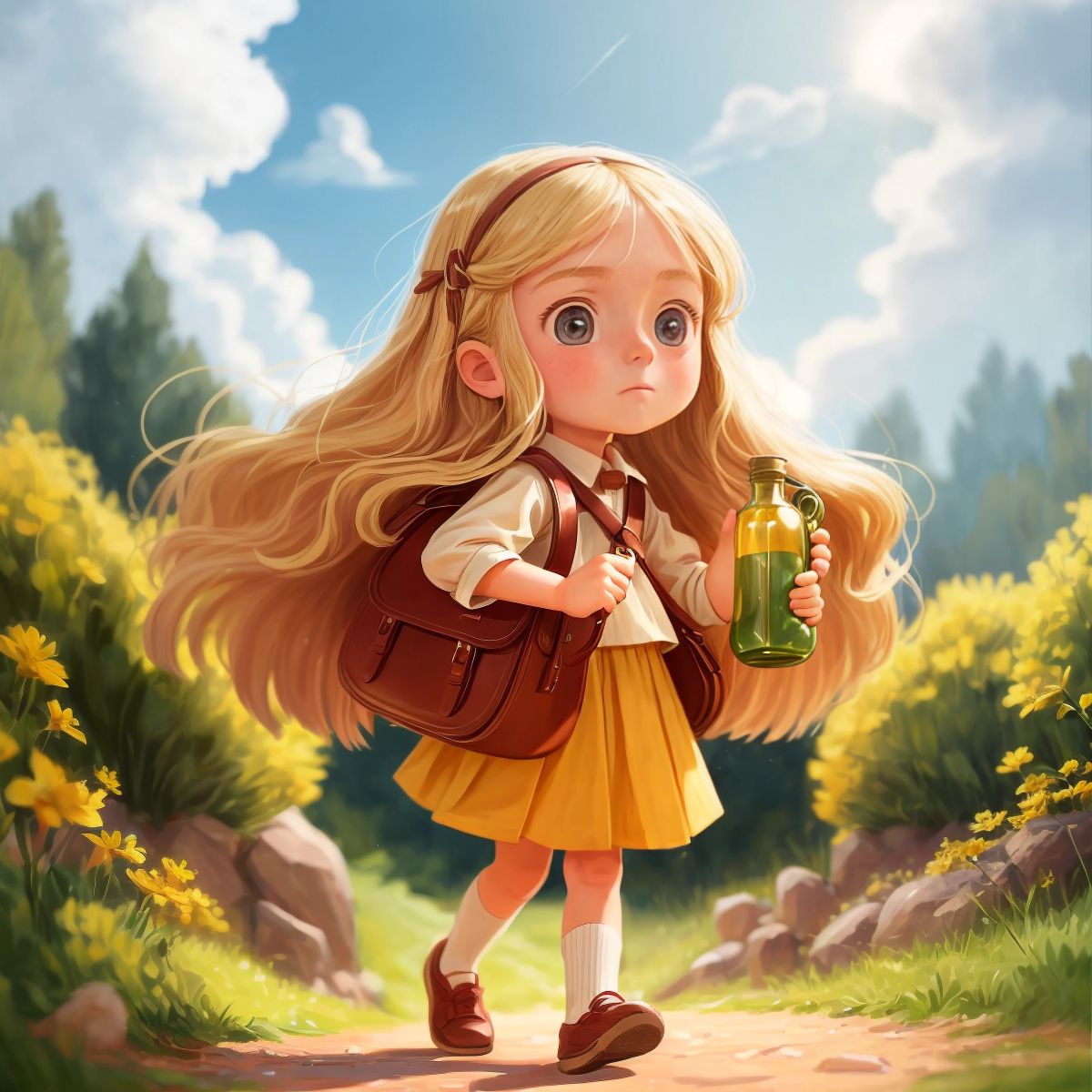 Illustration 5: Princess Strawberry with a determined expression, carrying a satchel of magical oil bottles, setting off on her journey.
After the wonderful tea party, Princess Strawberry decided to embark on a special mission. She wanted to bring the magical oil to all the families in the world to make them happy and youthful. With her heart full of love and determination, she set off on her magical journey.
5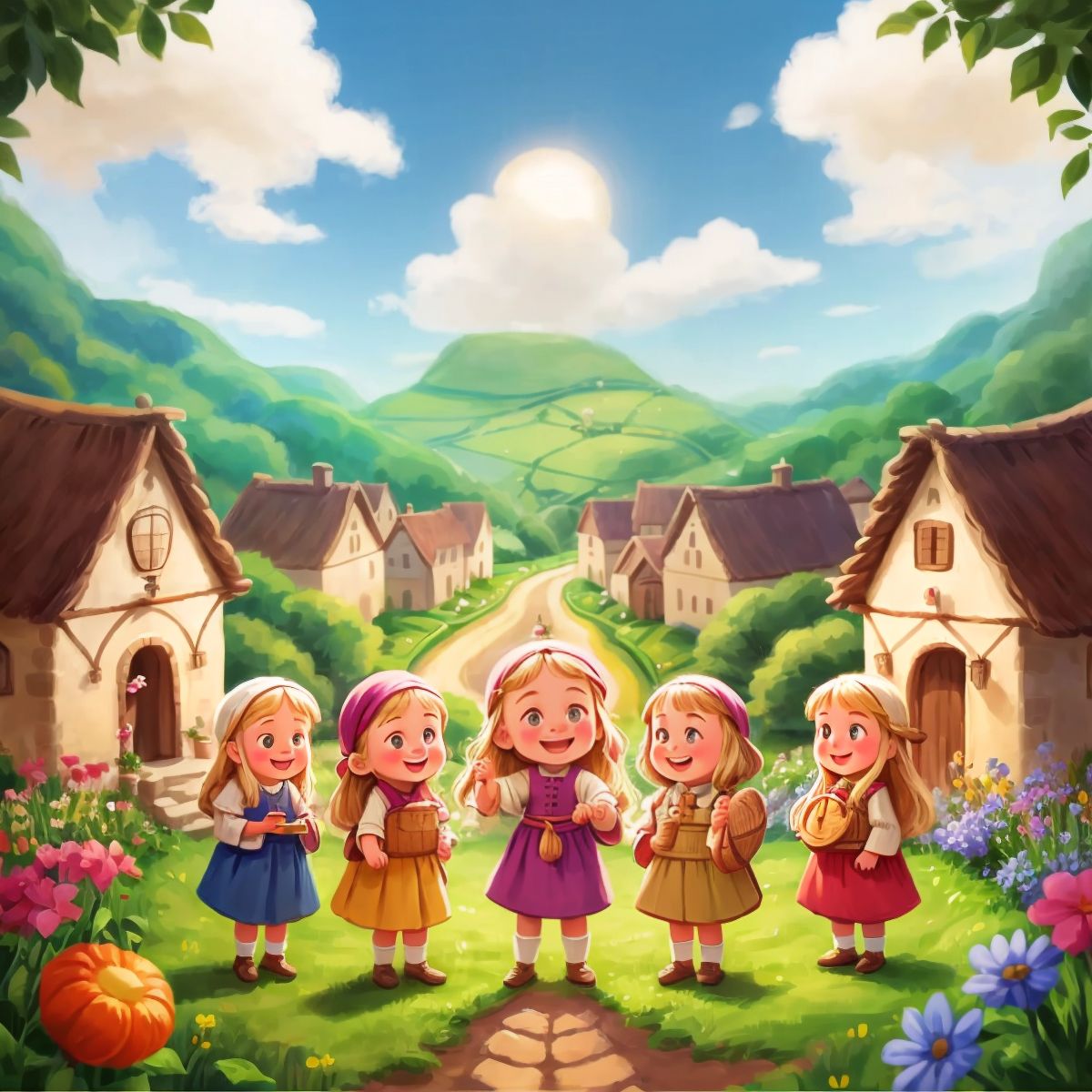 Illustration 6: Villagers with smiling faces, rejuvenated by the magical oil, while Princess Strawberry stands in the center of the village.
Princess Strawberry's first stop was a small village where the people were feeling sad and tired. She shared her magical oil with them, and soon, the village was filled with laughter and joy. The people thanked Princess Strawberry for bringing happiness into their lives.
6
Illustration 7: Princess Strawberry handing a bottle of magical oil to a family, with smiles beginning to form on their faces.
As Princess Strawberry traveled from place to place, she met families who were in need of joy and happiness. With her magical oil, she brought smiles and laughter to every home she visited. The world was becoming a happier place because of her kind heart.
7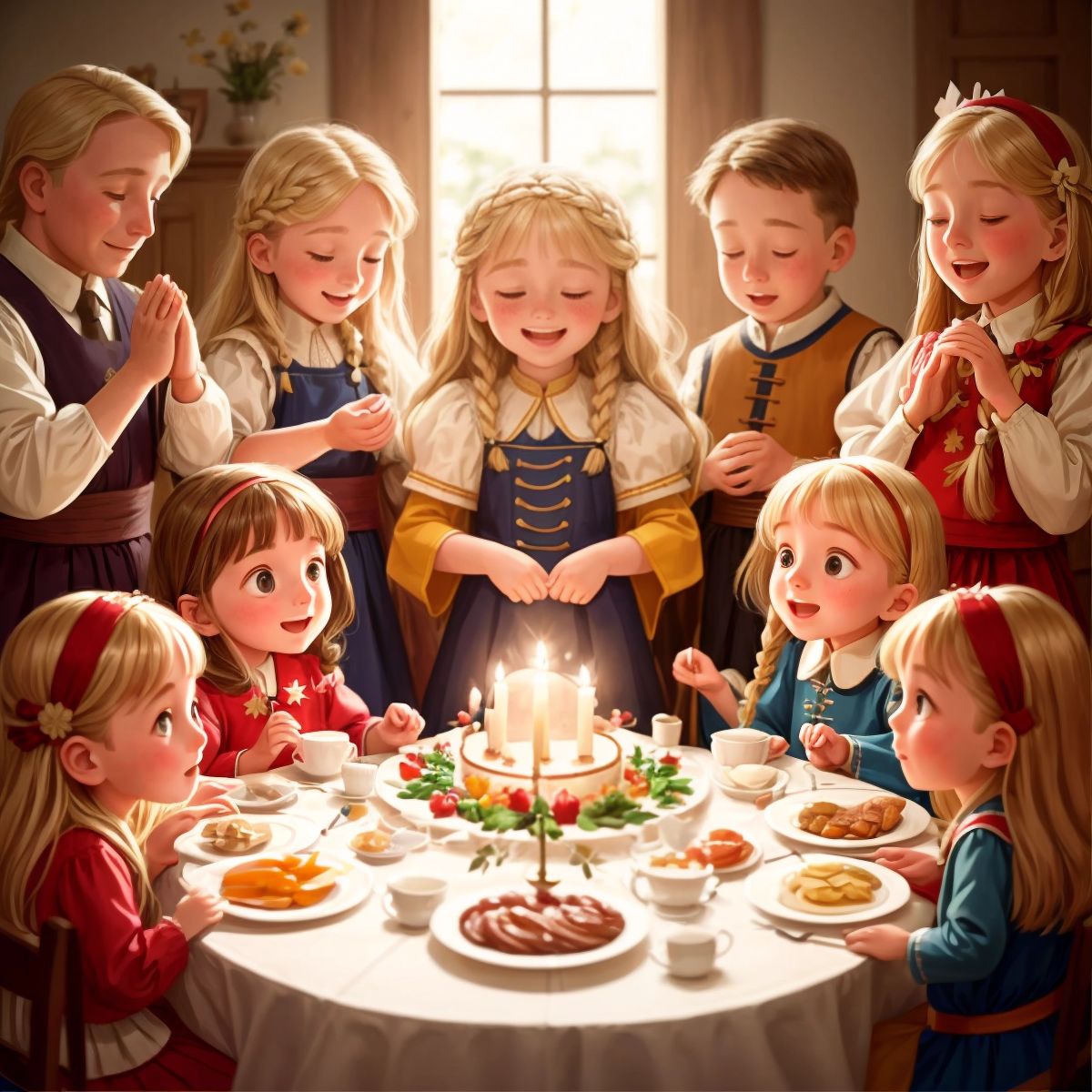 Illustration 8: A group of families gathered together, celebrating with Princess Strawberry in the center, expressing gratitude.
As Princess Strawberry continued her journey, the families she had helped decided to organize a special reunion to thank her. It was a magical gathering filled with love and laughter, and Princess Strawberry felt grateful for the opportunity to make a difference in the world.
8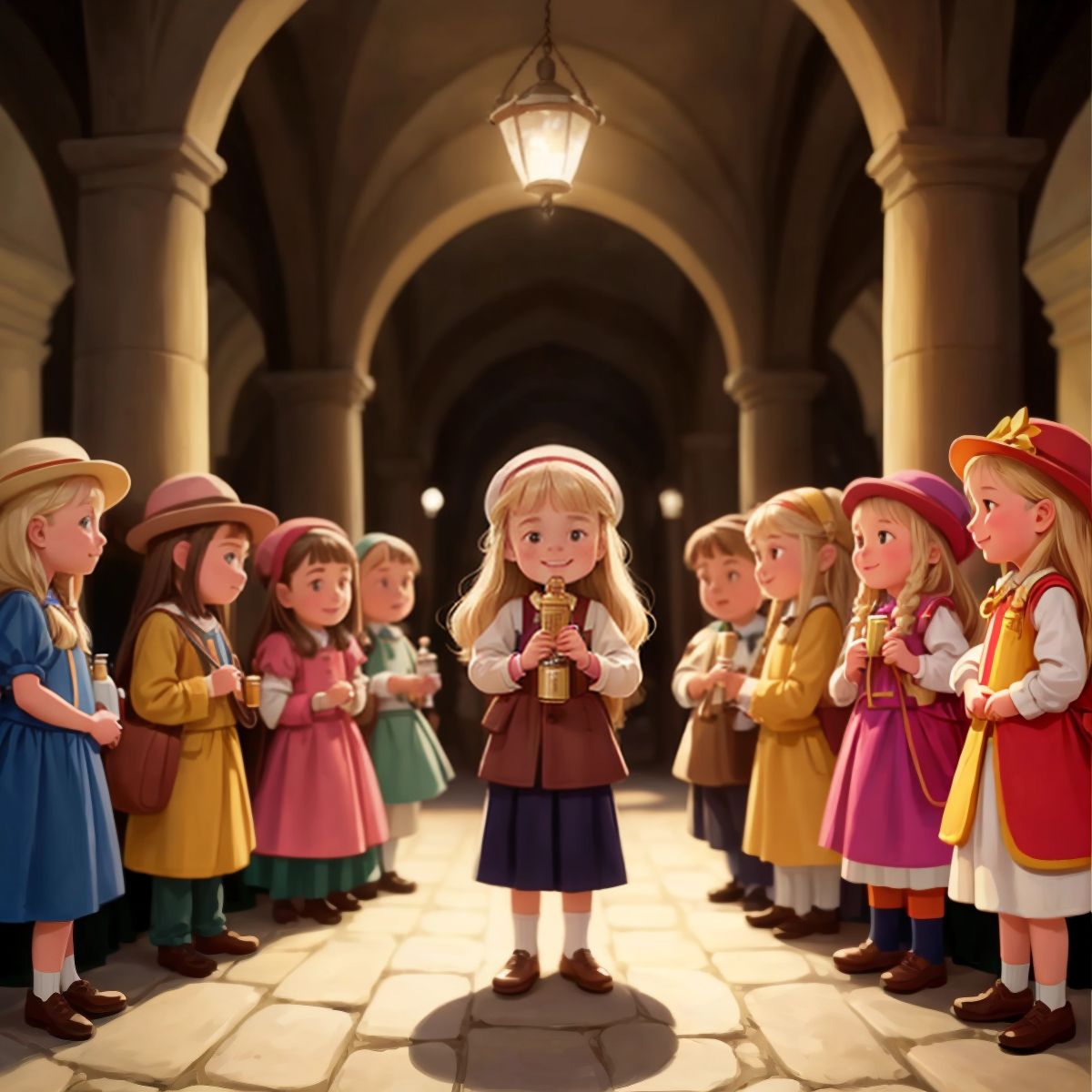 Illustration 9: People from around the world queuing to meet Princess Strawberry, who is smiling and holding her magical oil.
The news of Princess Strawberry's magical oil and her mission spread far and wide. People from all over the world came to meet her and experience the joy and youthfulness it brought. Princess Strawberry realized that kindness and love have the power to change the world.
9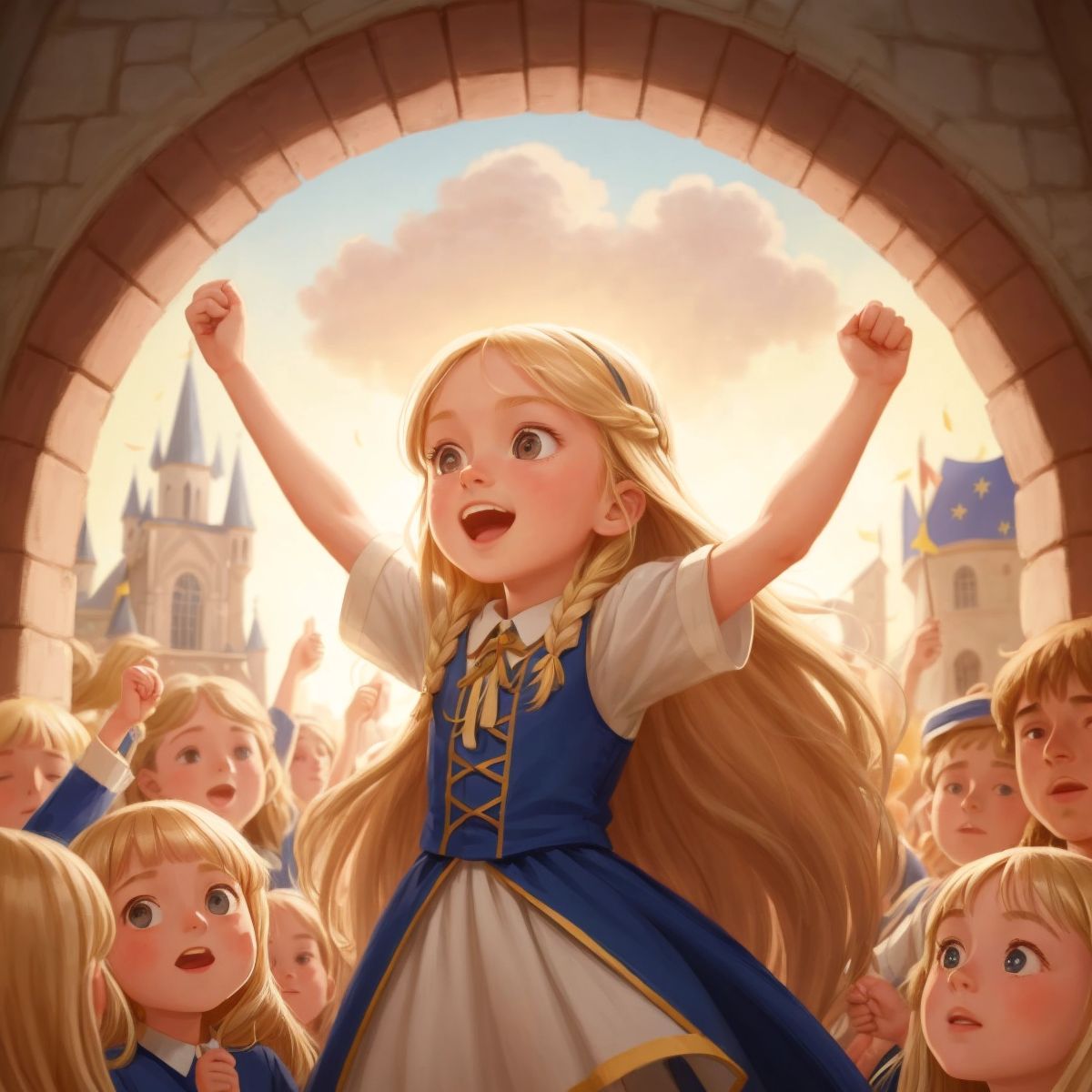 Illustration 10: Princess Strawberry entering her kingdom with a crowd cheering and celebrating her return.
With her mission complete, Princess Strawberry returned to her kingdom, where she was greeted with cheers and celebrations. The magical oil had brought everlasting happiness to the world, and the kingdom was now the happiest place on earth, filled with love and laughter.
10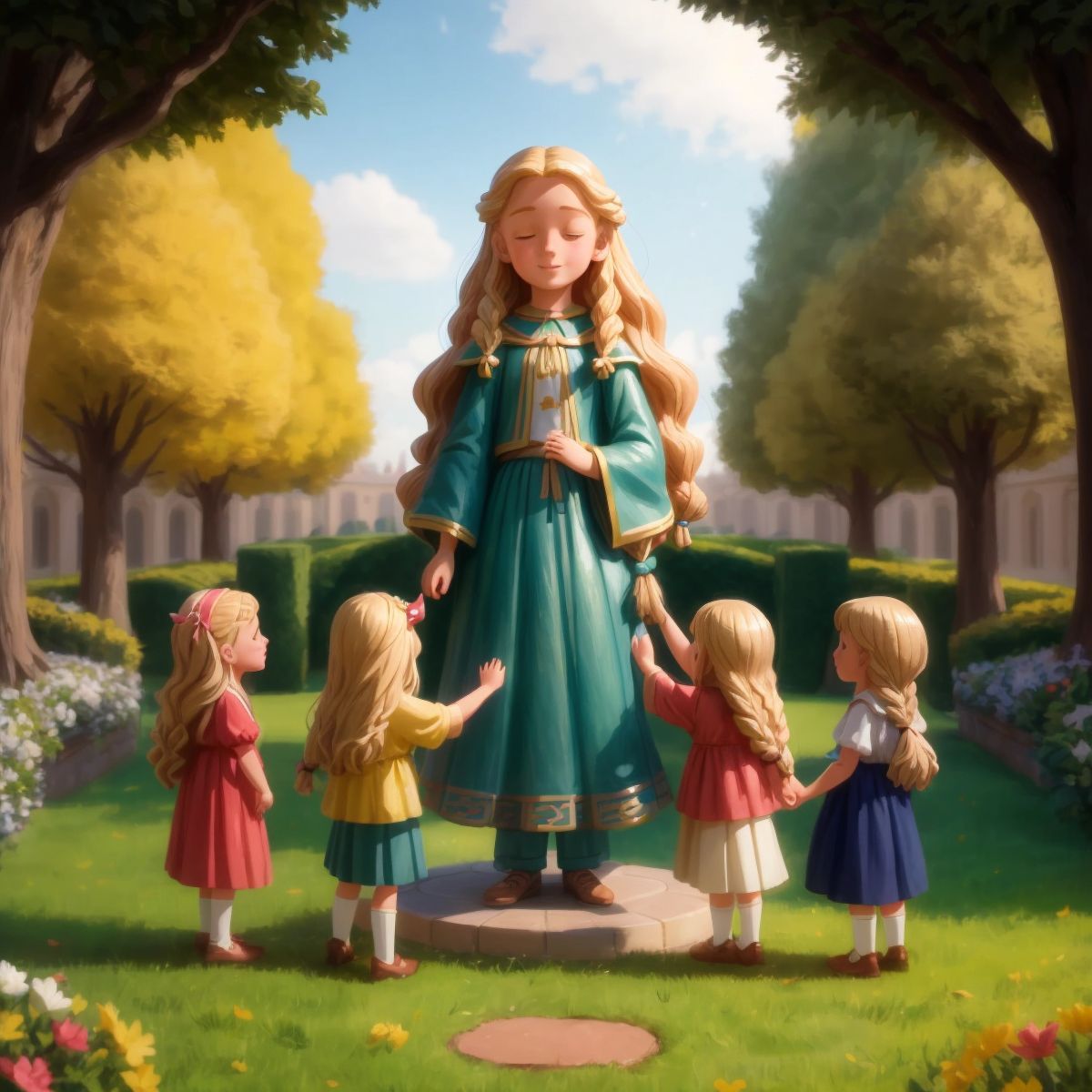 Illustration 11: A statue of Princess Strawberry, with children gathered around it, symbolizing her legacy of joy and kindness.
Princess Strawberry's act of kindness and love left a joyful legacy that would be remembered for generations to come. Her magical oil continued to bring happiness to families, and her loving spirit inspired others to spread joy and kindness.
11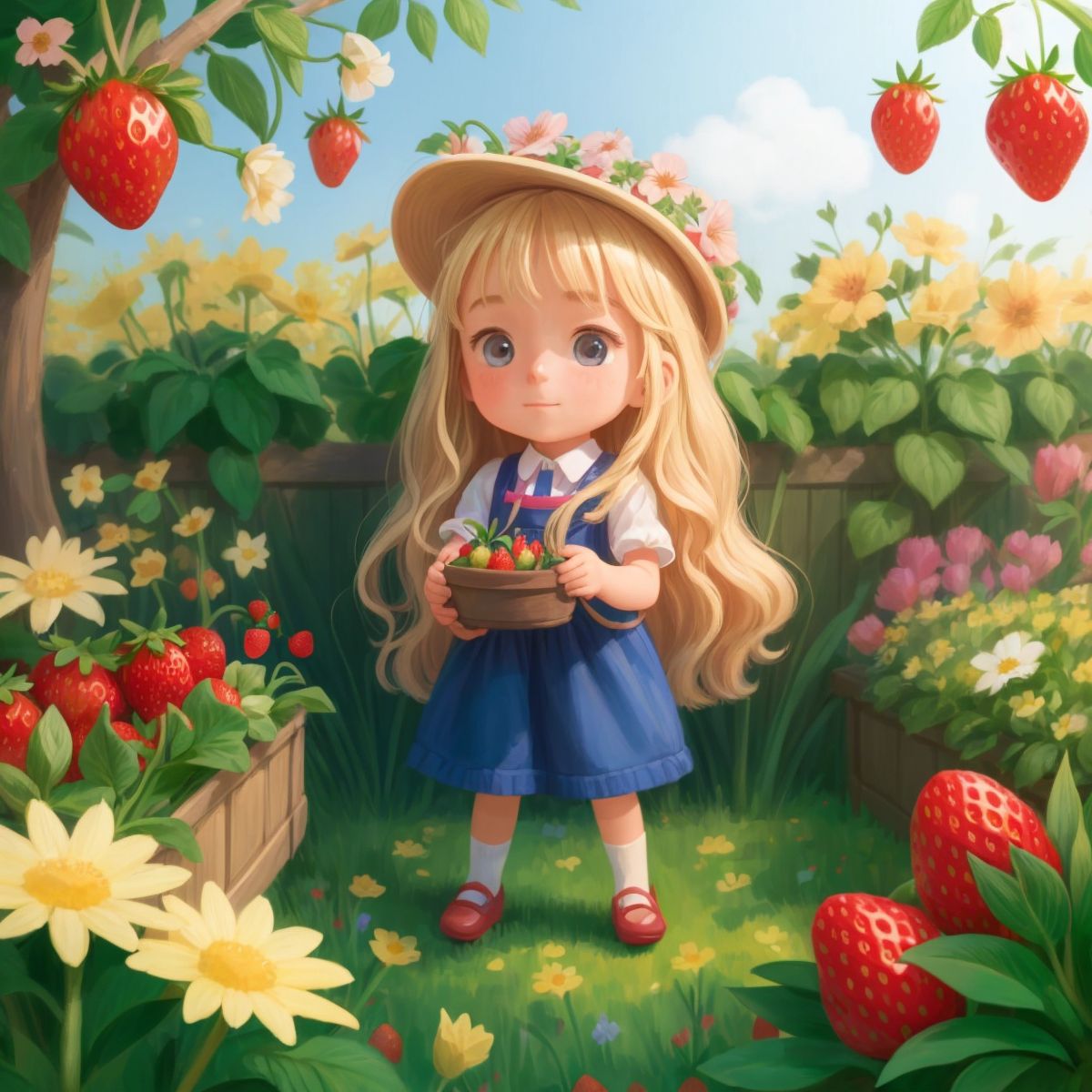 Illustration 12: Princess Strawberry contentedly tending to her garden, with the sweetest strawberries and most beautiful flowers in full bloom.
And so, Princess Strawberry lived happily ever after, knowing that her loving heart and magical oil had made the world a better place. She continued to tend to her magical garden, where the sweetest strawberries and the most beautiful flowers blossomed in celebration of love and happiness.
12